Time moves fast, especially in technological development. Waystream's Access Switch has been the class leader when it comes to FTTH for 20 years. A celebration of a long-standing partnership.
The memory does not fade: when Trigon AG in Bellinzona installed the first switch from Waystream (still under the name PacketFront), we, as the new sales partner for Switzerland, were just as convinced of the product as our Ticino customer. Since then, the switch has been improved with each new version and the speed has been multiplied from 100 MBit on 24 ports to 10 GBit on all 52 ports. The advantages have remained the same: Application-specific hardware, compatible pre-configuration, and cost transparency for the end customer.
Since then, the Swedish company has been our supplier for all our FTTH customers, who now operate over 40,000 active FTTH connections. René Mächler from Fiberstream 87 says: "Waystream switches are a perfect fit for Trigon AG: durable, secure, cost-transparent and trustworthy. The purpose-built approach makes installation and maintenance uncomplicated and efficient." Only if we can rely on our partners can we in turn be reliable partners for our customers.
Internet 2001
When the first version of the Access Switch was launched, the World Wide Web was still in its infancy. Wikipedia was launched in the same year and today's search engine giant Google was celebrating its 3rd anniversary – while many people were still using AltaVista to search for websites. Some Swiss people will still remember the Bluewin chats, which were popular at the time as a social medium avant la lettre. With the professional use of the still new broadband network, the access switch became an important part in the expansion for ever growing data volumes.
Fast present
Today, Switzerland tops the list of households with the highest broadband internet penetration worldwide with almost 50% (source: OECD Broadband Transfer Rates). Whereas in 2001 40% of Swiss people said they used the internet regularly, today the figure has increased to 90% (source: Swiss Federal Statistical Office); around the world, the figure was as low as 8% in 2001 and today it is just under 50% (source: bitkom). Data usage doubled at regular intervals and providers were called upon to constantly expand their offer of fast internet. One hero of this story has remained unknown to users – but it was of great value to companies like Trigon AG. It's the access switch from Waystream. Each successive version made it possible to transport more data without having to reinstall all the equipment at great expense. Thus, the costs were always well calculable and in line with the market. The next speed level is already on the horizon.
Networked future
Internet of Things, Virtual Reality, Smart Metering, and Hybrid Working: The world of the future is hungry for data. With Waystream, we have a partner that is prepared to satisfy all FTTx service needs – be it fibre-to-the-home, fibre-to-the-building, or fibre-to-the-street. However, it's not just the capacity that's decisive. The Waystream hardware also meets the high demands on data security, functionality, and maintenance. And while the demands on technology are growing, network provisioning is also confronted with questions regarding sustainability. In Brussels, MEPs recently debated climate neutrality of the internet by 2030 (source: Heise online). Waystream has been setting a good example for years with highly resistant equipment (even against heat and water) and durable technology that can be upgraded without much effort. Long live Waystream!
With our partners, we are well-equipped for another 20 years. And so are you, our customers.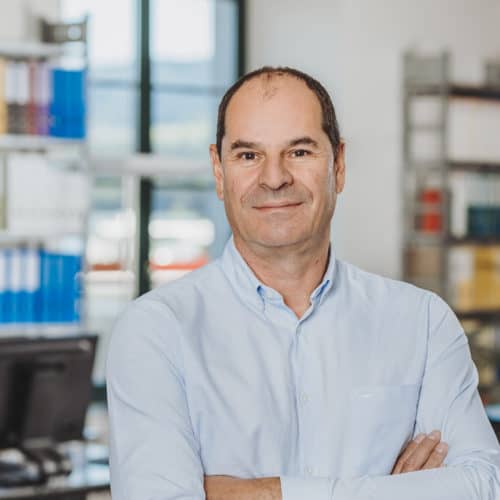 Rinaldo Zanella
Cofondateur et PDG Are you connecting homes with high performance fiber? I would be happy to show you the latest switch from Waystream.