WDM: fast & powerful


Transmit N x 100 Gigabit? At the speed of light? No problem. The WDM technology makes it possible. With DWDM and CWDM, you can make optimum use of your fiber optic infrastructure and help your customers gain more bandwidth.
Why WDM?
The demands on the communication volume and reliability of transmission networks and data flows are increasing. Whereas 10 Mbit per workstation used to be sufficient, today 1 GbE is the standard and 10 GbE will establish itself as the standard in the next few years. It is logical that transmission technology is adapting to 100 GbE speed, data centers und and storage area networks demand this capacity. Is the sky the limit? In any case, we are already working on projects that will offer a transmission capacity of 2.4 Terrabit/s in 2020.
Expand fiber optic capacity at low cost thanks to WDM
Invented for the carrier industry, today affordable for every company, modern WDM technology optimizes the transmission capacity of optical fibers. With WDM – wavelength-division multiplexing – data will soon be transmitted at x Tbit/s. The basis is of this is dark fiber, i.e. rentable optical fibers, which are available in more and more areas. In Switzerland many urban areas are already well developed. And yet bottlenecks are still occurring time and again. With DWDM (Dense Wavelength Division Multiplexing) und CWDM (Coarse Wavelength Division Multiplexing), fiber optic technologies are available that can keep pace with the rapidly increasing demands of your customers for more bandwidth and make optimum use of the existing fiber optic / dark fiber infrastructure.
Who benefits from WDM?
The origin of WDM technology lies with the operators of submarine cables, which were very difficult and expensive to lay. Today, the range of DWDM and CWDM offerings has grown to provide transmission solutions for companies, data center operators and public organizations. Want some examples?
Large WDM enterprise networks
Carrier WDM networks
5 WDM facts that convince
Convincing TCO:
a. Optimum utilization of the glass fiber
b. Low power consumption
c. Low rental costs for dark fiber
Safety thanks to redundancy: We plan WDM networks redundantly and help you to comply with regulatory and safety requirements.
Security thanks to encryption: All data is encrypted and secure on the way between two network points.
Low latency: With WDM technology, databases can be accessed in real time.
Instant Bandwidth: Build a high-performance network with us and use the capacity you want. This way you remain flexible when more capacity is required. Instantaneous, by purchasing the license you increase the capacity.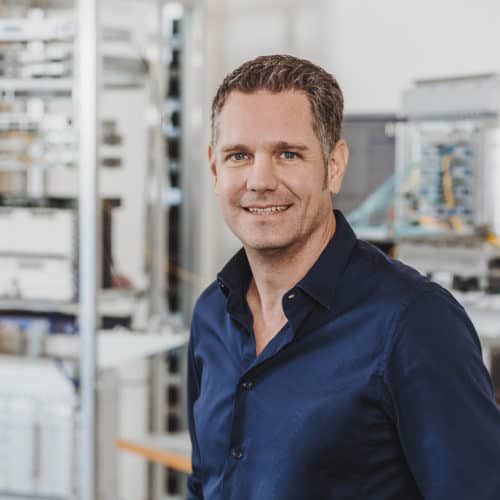 Daniel Grob
Technology and Engineering Your Use Case looks similar or different? We will find the right solution for your WDM challenge.
Our offer: WDM solutions from renowned manufacturers
Whether transponder, muxponder, (TDM) Time Division Multiplexer, Optical Switches or Transceivers / SFPs, we carry all components you need for your high-performance network. We are not only dealers, but also evaluate the most interesting components worldwide, test them in our laboratory and configure them for your application. Interested? Test our skills!
Satisfied Clients
For 15 years we have been able to prove our WDM competence for customers from all industries. And how may we be of service to you?